SPECIAL EVENTS
We are planning 2 special certification classes - Please email me if you wish information about these classes as they develop: estinstaichi@mac.com
Tai Chi Practice Leader 25 hour certification. open to all levels of experience
Integral Qigong practice leader 65 hour certification. Open to all levels of Qigong experience.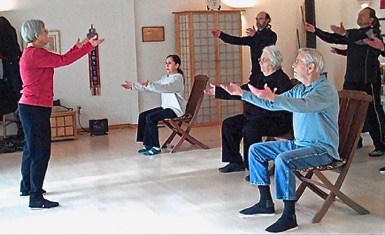 Ongoing Tai Chi and Qigong Classes at Pondhouse Dojo
Slow graceful movements and focused breathe reduce stress, bring a sense of well-being and improve balance and range of motion. Presented in a fun and easy-to-learn style - enhanced with taiji philosophy, history and folklore. Most practices can be performed either sitting or standing.
Currently we offer 3 classes a week:  
Tuesday, Thursday and Saturday 8:00 AM - 9:30 AM
Some students come once or twice a week, some come to all three. All classes are a mixture of beginners (less than 2 years), intermediate (2-5 years) and senior (5-20 years).
Our classes are on-going.  That is to say, there is no beginning and no end.  We emphasize the basics of tai chi and qigong - beginners learn fresh and senior students go deeper.  Senior students help beginners.
Our classes are small (and our Dojo is too). If you are interested in joining please call (541) 778-1057 or e-mail me at estinstaichi@mac.com since classes are sometimes full.
Our students range in age from late 30's to late 80's.  Most are retired or semi-retired.  All will tell you their health has improved since starting Tai Chi.
Classes are held at our dojo - a beautiful, spiritual setting in the countryside between Medford and Jacksonville.
Classes combine Tai Chi and Qigong.  Qigong is energy cultivation - very simple exercises designed to activate the "healer within."  Our Tai Chi is based on a very simple but effective system. 
Classes are $5.00 each - pay as you come.
Private lessons are also possible. Often, beginners like a private lesson or two before they join an ongoing class.
Call for information 541 778-1057 or e-mail me at estinstaichi@mac.com